d'apres des infos selon le site horrormovie.ca aupred de la presse
peu de temps après la mise en vente du premier film  de la saga, une suite est prevu.
le full cast est deja planifie et il serais suppose prendre des photos le 29 septembre prochain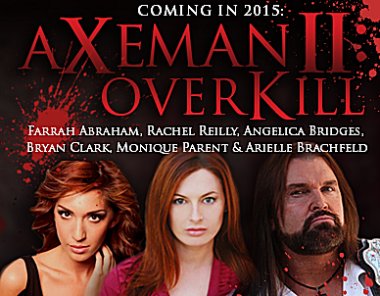 Over the years we have been keeping a close eye on Joston "El Rey" Theney, and each time one of his projects comes along, we just can't help but to be intrigued and today we can finally reveal the full cast for his latest film Axeman 2: Overkill.
The film is scheduled to begin principal photography this September 29th, and I am so stoked to witness the one and only Bryan Clark (WWE's "Adam Bomb"/ WCW's "Wrath") as the Axeman!
From the Press Release:
Blood Red Films and the filmmakers of AXEMAN 2: OVERKILL, the next installment in 80's throwback slasher franchise, are pleased to announce the cast of the film, which picks up the story where the original 2014 film AXEMAN left off and will deliver a new chapter in the Axeman At Cutter's Creek saga with the goal of making it darker, grittier and bloodier than the original.
The cast includes an all new actor in the iconic villain role of Bill "The Axeman" Talbert, an exciting cast of principle actors and written and directed by Joston "El Rey" Theney.
Playing the titular character of Bill "The Axeman" Talbert is former 3-time World Champion, WWE's "Adam Bomb"/ WCW's "Wrath", also known as Bryan Clark. Well aware of the new direction executive producer Christopher Otiko and the team at Blood Red Films were looking to take the franchise, director Joston "El Rey" Theney knew Clark was perfect for the role. He describes the 6'6" behemoth as having "the most menacing 40-yard stare" he's even seen. "Just like me, he's a warm, good ol' boy from the south but he has an uncanny ability flip the switch and become this massive, imposing and terrifying figure," Theney went on to say.
Farrah Abraham of former "Teen Mom" fame has been cast as Fannie Rae Baker, a bible-thumping Evangelical Christian on her way with her husband and friends to the Crimson Cross' Christian Couple Camp when The Axeman shows up to separate them… and dismember them. Abraham describes Fannie as, "an Uber Bible Thumper – getting a little radical about the Bible and taking the words farther than the way God intended."
Rounding out the cast of crazed Christians are Allen Merritt (THE DARK KNIGHT RISES) as Fannie Rae's hick husband Jim Ed Baker, Arielle Hader as Fannie Rae's best friend Irma Jean Manly and Edward Gusts as David Manly.
Angelica Bridges ("Baywatch," "The Bold and The Beautiful") has been cast as the money-hungry mercenary Dungie. "Big Brother" reality show winner Rachel Reilly joins the cast as the tough as nails, double-crossing Breaker.
Arielle Brachfeld reprises her role as the reluctant hero Deputy Darlene Whitfield, as well as Joston "El Rey" Theney in his surviving role of the affable, death-defying Darren Cole. Rounding out the cast as of this release are Monique Parent (THE PROFANE EXHIBIT), Jacqui Holland (MY BEST FRIEND'S GIRL), Maria Olsen (PARANORMAL ACTIVITY 3), Alisha Seaton (THE FOURTH KIND), Whitney Nielsen (CHILDREN OF SORROW), Hanna Landberg (RABID LOVE), Michael Foster, Sasha Higgins, Linda Wong and Craig Partamian.
The film is a collaboration between Christopher Otiko's Blood Red Fims and Joston "El Rey" Theney's #SinningWorks. Theney writes, directs and produces the film and Otiko co-writes and executive produces. AXEMAN 2: OVERKILL will receive a theatrical release in 2015, release date and locations TBA.
on remplace un joueur de basketball de 7'0 par un ex lutteur de 6'6 . adieu les acteurs

  sortie au cinema en 2015 . ben oui me semble...  qu en pensez vous?